DMF in Your Gloves? Here's what you want to know
What is DMF and where is it found?
Dimethylformamide (DMF) is a chemical used in a variety of industries. The chemical is a solvent used in acrylic fiber spinning, chemical manufacturing, pharmaceuticals, and in products such as textile pigments, paint stripping solvents, coatings, and adhesives, to name a few. Employers who use DMF in their processes should already have protective measures in place for their employees.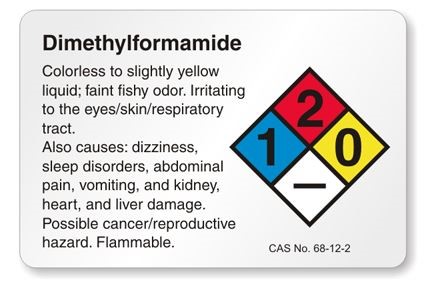 If you use DMF in your processes, you are likely aware of the 1990 health alert issued by the National Institute of Occupational Safety and Health NIOSH with its warnings and risks of exposure to DMF. Due to its harmful characteristics on the human body, European manufacturers, under REACH Regulations, have stopped the chemical's use and no longer allows it to be used in the manufacturing process.
For those who do not explicitly handle DMF in the manufacturing process, you likely do not associate exposure to DMF in the personal protective equipment (PPE) you provide to your employees… like the gloves they wear on their hands.

What's the problem with DMF?
The problem is that exposure to DMF is harmful to us.
NIOSH warns that exposure to DMF can cause long-term liver damage, various types of cancer, and acute (sudden onset) exposures inducing heart palpitations, headaches, nausea, and vomiting. The substance is readily absorbed through the skin as well as causing contact sensitivity, similar to latex powder.
As a skin absorbent, NIOSH places the permissible exposure limit (PEL) for DMF at 10 ppm over eight hours, and 20 ppm at the 15-minute STEL, based primarily on injury to the liver.
An independent test of coated polyurethane (PU) gloves manufactured for use as PPE, showed that DMF continued to be present after the final cleaning/rinse stage. Random testing of PU gloves already in the marketplace showed DMF levels from 49-10,000 ppm. These levels are 5X to 600X greater than the recommended exposure limits!
In other words, the PPE issued to employees under the premise that it is to keep them safe can create DMF exposure capable of causing acute skin sensitivity, chronic dermatitis, and even long-term fatal health concerns without knowing why. An investigation into an acute condition like dermatitis without the knowledge of DMF exposure would lead to wrong conclusions and never uncover the real root cause of the condition. It is very common for glove users to think they are allergic to latex when really the root source of the irritation is exposure to DMF.

How do I know if my PPE has DMF?
How can anyone know whether the PPE purchased is potentially placing people at risk? Are there DMF-free solutions or is double-gloving with thin-mil nitrile gloves the only option for eliminating the DMF risk?
One way to identify DMF in your coated gloves is the faint ammonia-like smell you may notice when removing the gloves from its packaging. Simply "airing" them out to dissipate the smell will not remove the DMF from the glove material. Perhaps double gloving is a temporary solution, but it will increase the discomfort of the wearer and significantly increase your PPE costs. Remember when in doubt, wash it out prior to use!
Another solution is to know where your gloves were manufactured or who manufactured them. Europe stopped using DMF in 2009 because of its hazards1. At Mechanix Wear, we elected to move away from DMF in the making of our gloves and created worthy alternatives.
There are a few indicators you can also look for.
California Proposition 65 – If your products come with a proposition 65 warning, it is a good sign your gloves may contain DMF.
EU REACH – Alternatively look for "REACH" compliance. If the glove does not pass REACH, it would be a good sign that dangerous chemicals are found in the gloves.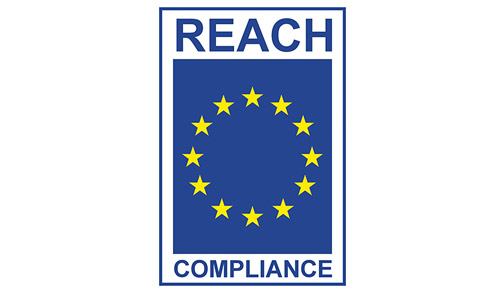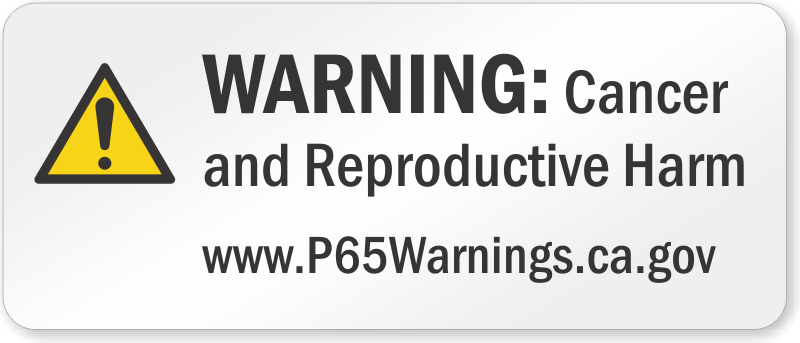 It's okay to ask!
If you purchase PPE through a distributor, ask for gloves that are DMF-free.
If you purchase your PPE directly, look for gloves that state they are DMF-free.
To reduce your research time and address these health concerns quickly, simply learn who makes gloves without DMF in the process.
As mentioned above, Mechanix Wear manufactures gloves that are DMF-free. All our water-based urethane Speedknit® gloves are free of both DMF and silicone. This unique water-based coating allows the wearer to maintain grip of materials or parts in wet and dry conditions. That means the same benefits of traditional PU coated gloves, without the risk of chemical exposure.
Summary:
NIOSH has identified Dimethylformamide (DMF) as a chemical that causes serious health concerns to those exposed to it. Whether used in the manufacturing process or wearing gloves that are made with DMF, exposure can create acute and chronic/long-term health effects.
Safety professionals, distributors, retailers, and individuals or hobbyists can protect themselves from these adverse health concerns by avoiding products that are made with or contain DMF. Do not risk your health or your employees' health. There are alternative coatings that allow the gloves to truly protect the wearer, keeping the person safe and healthy!
If you need help or are unsure about your current hand protection solutions – we're here to help.